Given at his Memorial Service at St. Andrew's Presbyterian Church, Kingston, Ontario,
12 May, 2018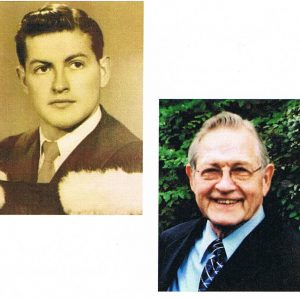 On 17 April 1977 I stood at this very pulpit and commended to this congregation the ministry of the man they were about to induct that week. I said that the Rev. Bill Duffy was a man eminently suited for this congregation situated so near the campus of Queens University. His pastoral gifts of outreach and evangelism were evident from his nineteen years as the founding pastor of St Paul's Church, Ottawa. Having himself been brought to a personal faith in Christ through the ministry of the InterVarsity Christian Fellowship while studying engineering at the University of Toronto, he had a vision of students in a secular environment being brought to personal faith in Christ. As the national (or general) director of InterVarsity at the time, I said that from my perspective Bill Duffy had unique gifts and St. Andrew's Kingston was fortunate to have someone of his experience and  ability to serve them. Like doubting Thomas (the subject of my post-Easter sermon that day) he understood how the risen Christ can answer our questions and uncertainties and bring life and hope.
Fast forward to 6 January 1985. I had been Interim Moderator of Beaches Church in the Presbytery of East Toronto. The Rev. Drew Strickland was being inducted as the new minister. Drew had been a person whom Bill Duffy had mentored at Camp Iawah and encouraged along the path to ministry. It was a terrible night with a midwinter  snowfall that made the roads treacherous and icy. But Bill, true to his mentoring commitments, was determined to be there and drove down from Kingston in weather conditions that would have defied most of us. As he drove his Honda Accord down Glen Manor Road to the church the inevitable happened. He had a fender bender. Nothing could faze our Bill and as the tow truck arrived he turned, and with that delightful sense of humour and his signature laugh, he exclaimed "My Accord has become an accordion."
My final Bill Duffy moment came six years ago when, as a past Convenor of the Committee of History I conducted an oral history interview with Bill and his wife Lois in their retirement home in Kingston. I went over events in a life time of ministry as they extended the warm hospitality for which Lois' family, the Sutherland's from Cape Breton, had been famous. As I reviewed events in the years of his ministry Bill shared with me a lifetime of loving service. Bill's convictions were as strong as ever: his confidence in the authority and trustworthiness of Scripture, his belief in the vicarious atonement of Jesus, his Friend and Saviour, his hope in the reality of the bodily resurrection of our Lord as his confidence in the immortality of the soul. There had been dark times as well as sunshine as he served but there was no anger or bitterness, just a supreme confidence in the grace and mercy of his heavenly Father.
I loved Bill Duffy. He was more than a friend, more than a colleague. He was a brother in the Lord. His life is a call for all of us to live and serve in the shadow of the cross.
Whose faith follow.